Kansas City Restoration Contractors Hazard Insurance: What Kansas City Area Homeowners Need To Know–No matter where you live, natural hazards are a fact of life. Fires, hurricanes, earthquakes, snowstorms, and tornadoes can rip through communities, destroying structures and wreaking havoc on communities. The National Oceanic and Atmospheric Administration reports that in 2020, 22 weather or climate-related disasters each resulted in at least $1 billion in damages. 
According to Frank Nothaft, chief economist at real estate data firm CoreLogic, nearly every property in the U.S. has exposure to "peril risk." In addition, a CoreLogic study found that a third of the nation's housing stock is at "high risk" of a natural disaster.
The properties at highest risk are in California, Texas, Oklahoma, Nebraska, along the Mississippi River, in areas situated across wide swaths of the Gulf and Atlantic coasts, and, not surprisingly, Kansas. Located in the area of the country known as "Tornado Alley," Kansas City area homeowners know all too well the risk that natural disasters can pose to their homes. This locale is also prone to severe storms, power outages, and, less commonly, droughts and even earthquakes. 
According to the Federal Emergency Management Agency, between 1953 and 2019, Kansas declared 74 major disasters. RealtyTrac, a real estate information company, and HousingWire, which reports news and information covering the U.S. housing and mortgage markets, compiled a list of the 13 riskiest cities for natural disasters and, Kansas City, MO is on the list. So how can you protect your family and your home? This is where hazard insurance comes in.
Hazard insurance, also known as dwelling coverage, is typically required for anyone who is applying for a mortgage and protects your home from natural disasters or other hazards. It is included as part of homeowners' insurance. Liability coverage protects you from liability due to injuries following an accident on your property and homeowners' coverage protects your possessions within your home. Hazard insurance specifically covers the structure of your home, such as walls, floors, roofs, and the garage.
Hail

Smoke

Snowstorms

Ice and sleet

Falling debris, including trees

Fire

Hail

Lightning

Damage

Theft

Vandalism

Vehicles that run into your home

Explosions

Hurricanes

Tornadoes
Homeowners who live in certain areas of the country that are particularly prone to specific types of peril, such as floods or landslides, may consider purchasing separate insurance for those distinct needs. A meeting with your insurance agent is one of the best ways to check on and purchase the coverage that you need for your home or business.
If you do fall victim to a catastrophic event that damages your home, the best way to get the most out of your hazard insurance is by working with an experienced restoration contractor who knows how to navigate the insurance claims process and can help you coordinate the mitigation and restoration processes to get your home or business back to normal as soon as possible. 
Kansas City Restoration Contractors–Get Help From The Right Kansas City Area Disaster Restoration Specialists
Midwest Comfort Homes Disaster Restoration Specialists serves homes and businesses in the Kansas City area including Mission Hills, Roeland Park, Westwood, Leawood, Warrensburg, Prairie Village, and Lawrence, KS; and Brookside, Columbus Park, Riverside, Overland Park, River Market, and Volker, MO. 
Our A+ rating with the Better Business Bureau, our five-star Google rating, and our personal approach are why hundreds of Kansas City area homeowners and businesses trust us when disaster strikes. We are available 24 hours a day, seven days a week, and are ready to provide the restoration services that you need. 
Call us, and we can get your home back together again. We are a fully licensed restoration company offering fire damage restoration in Kansas City with years of experience helping people like you.
Contact us today.  MIDWEST COMFORT HOMES • 1100 SW 24th Street Court • Blue Springs, MO 64015
(816) 988-8297 • service@mchrestore.com
It's not business.
It's personal.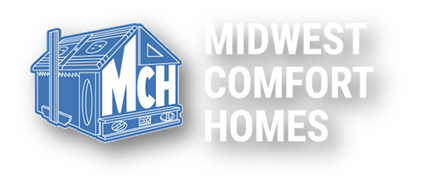 The driving force behind Midwest Comfort Homes is to be among the most trusted and respected home restoration companies in Kansas City. We will communicate with you throughout the entire restoration process to make sure you're well informed each step of the way. Our Kansas City restoration contractors will make sure you know what comes next and give you a clear timeline for project completion. Home Restoration Companies Kansas City will also be in close contact with your insurance company to ensure each step of the restoration is handled properly.