#1 Kansas City Restoration Contractors: When To Hire A Pro And When You Can Do It Yourself Mold. Just mentioning the word can cause many property owners to start to panic, and rightly so. Mold can cause serious health issues. It grows quite quickly and many times in areas of buildings that are not visible, making it even harder to remove it from your property. Cleaning up mold on your own can be dangerous and difficult. 
However, there are times when a DIY clean-up will be effective. In order to know when to call a professional mold remediation group like Midwest Comfort Homes or when you can handle the mold removal job on your own, here are some tips on how to decide which option is best for you.
Mold remediation specialists have very specific skills and tools to make sure that any mold in your home is removed, especially as mold can become airborne. Professionals have the knowledge and experience to make sure that your property is completely safe once clean-up is complete. Consider these guidelines when deciding on when to bring in a professional for mold removal.
In any type of building, from a single-family home to large commercial properties, it is more than likely you will have mold growth after flooding, especially when contaminated by sewage. 

If you have considered DIY but aren't sure how to do every step of the process correctly, then you need to call in a professional.

Your air conditioning and heating system (including the ductwork for air movement and ventilation) produces condensation. If, for some reason, the moisture is not moving outside the building, mold can grow. With the potential for mold growth inside an entire system, mold remediation specialists need to come in to get rid of the mold so that the air in your home or business is safe.

If you can smell mold but aren't able to find it, have a specialist come help locate the source. Mold can be inside walls, under carpets, in crawlspaces — many places where it is impossible to actually see it.
Disaster Happens. We Can Fix It. Kansas City Restoration Contractors
If you see signs of a water leak, mold is more than likely growing. Again, you probably won't be able to see the mold, so bringing in a specialist will help determine the extent of the mold damage.

Moldy wood that cannot be moved or replaced needs to be sanded and encapsulated by a mold remediation specialist. Sanding molded wood creates significant exposure to mold and can lead to serious illnesses.

Consider if you are currently experiencing symptoms that could be related to a mold-related illness (coughing, shortness of breath, headaches, sneezing, chronic sinus infections, etc.). You don't want to make yourself more sick by exposing your health to more mold. Also, consider any medical conditions you currently have that could be made worse by exposure to mold.
Most of the time, mold inside a home or building does require a professional group to come in and remove it. However, there are some options for doing mold removal yourself. Consider each of these factors if you think you have mold on one of your properties, in your commercial building, or your home.
According to the EPA, the size of the mold problem is one of the top considerations when considering who should do the clean-up. If the moldy area is less than ten square feet (a 3 ft. x 3 ft. patch), then more than likely, you can manage the clean-up on your own.

Another consideration is the surface that the mold is growing on. If it is a surface that is easy to clean and less porous, with the right process, you should be able to clean up the mold on your own. Types of surfaces that mold is easier to be removed from are tile, tubs, glass, metal, sinks, and other hard surfaces.

The opposite can be true with surfaces as well. If the mold is growing on a material that is hard to clean, like carpet, you can remove the surface and throw it away. Make sure that you follow precautions when removing any surfaces so that the mold does not become airborne. As well, check beneath the surface to make sure mold is not deeper into the structure of the building.

If you do decide to clean up the mold by yourself, make sure to protect yourself. Wear a securely fitted N-95 mask, goggles that do not have ventilation holes, gloves (depending on the chemical you use — make sure you have the correct gloves for those chemicals), and clothes that you can throw away.
Disaster Happens. We Can Fix It. Kansas City Restoration Contractors
A common misconception is that bleach will kill mold. In fact, all it does is change the color of the mold. In order to destroy mold, you need to scrub the surface with borax mixed with water and do not rinse the borax off once you have cleared out the mold. Do not use this on a porous surface, as the surface will most likely soak in the moisture creating a perfect environment for mold to grow.

Always consider your own health. If you have any underlying issues such as asthma, allergies, or autoimmune disorders, really consider if you want to expose yourself to mold as you clean it up.
If you are in the Kansas City area, Midwest Comfort Homes provides professional mold and mildew remediation services, including restoration if there is water damage involved. We have a team of fully trained and licensed technicians who have extensive experience working with mold removal and restoration throughout the Waldo and Columbus Park neighborhoods. If you need professional help with mold and mildew remediation, contact us today.
AT MIDWEST COMFORT HOMES. We are yourKansas City Restoration Contractors
Call us, and we can get your home back together again. We are a fully licensed restoration company offering fire damage restoration in Kansas City with years of experience helping people like you.
Contact us today.  MIDWEST COMFORT HOMES • 1100 SW 24th Street Court • Blue Springs, MO 64015
(816) 988-8297 • service@mchrestore.com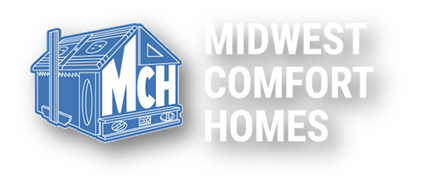 It's not business.
It's personal.Disaster Happens. We Can Fix It. Kansas City Restoration Contractors
The driving force behind Midwest Comfort Homes is to be among the most trusted and respected home restoration companies in Kansas City. We will communicate with you throughout the entire restoration process to make sure you're well informed each step of the way. Our Kansas City restoration contractors will make sure you know what comes next and give you a clear timeline for project completion. Home Restoration Companies Kansas City will also be in close contact with your insurance company to ensure each step of the restoration is handled properly.