The Caring Choice. Water Damage Restoration in Kansas City–Water damage comes in all different forms. Sometimes the damage from water is caused when a small leak goes unnoticed. It may take weeks or even months before the damage finally shows up to signal damage to your property's structure and surfaces. 
Then there are the times when a pipe bursts from the second floor or a dishwasher hose breaks, and water is pouring through your ceiling or onto the floors destroying hardwood flooring, carpets, and drywalled ceilings — and the structures underneath. Water damage can also come in the form of backed-up sewage drains or floods. 
Whether it is a leaking roof, a flooded basement, or the aftermath of a fire, there are many ways that your home or business can be impacted by water damage.
Although water itself is not scary, the damage it can cause is. Water in any type of property can create all kinds of devastating consequences, including creating a perfect growth environment for bacteria and mold. Because mold and bacteria can start growing within 24-48 hours after water exposure, water damage is a serious threat not only to the structure itself but also to the safety of the people inside the building — especially anyone working to clean up the water. 

Water Damage Restoration in Kansas Cityprofessionals like

Midwest Comfort Homes

have all of the necessary equipment and knowledge to safely clean and rebuild your property after any type of water damage. Even if you think it's just a small leak, remember, you may only be seeing it for the first time. Chances are good it's been actively creating a humid environment for mold to grow behind closed walls. 
We Work Hard For You. Water Damage Restoration in Kansas City
In larger water damage scenarios, like after a building fire has been put out, water damage restoration professionals have the knowledge to know if a structure is safe to even enter. Water has the ability to destabilize any building's structure. Only experienced professionals can make assessments about a building being structurally sound.

Professional restoration companies know how to work with your insurance on your claim.  They help correctly document the losses in order to provide the fullest amount of coverage for damages and receive a fair settlement from your insurance. A professional can help provide proof of damage if any disputes arise.
Getting help from a professional water damage restoration contractor will ensure that your property get's safely back to normal ASAP. 
The process of removing water from a building and restoring it back to its original condition requires a lot of moving parts. Here are the terms and processes you need to know in order to understand and navigate a quality water damage restoration project.
At Midwest Comfort Homes, we work with you to get your life back to normal as quickly as possible when a disaster happens. The truth is, we know what it is like to live through the restoration process. Co-owner Travis Thonen was just a child when a fire destroyed his home. Watching his mother be pressured by restoration companies left a mark. When Travis founded Midwest Comfort Homes, he vowed to be the company that cared. No pushing, no pressure. Just help when you need it. 
Call us at (816)988-8297 anytime you need help!
AT MIDWEST COMFORT HOMES. We are your Restoration Contractors in Kansas City
Call us, and we can get your home back together again. We are a fully licensed restoration company offering fire damage restoration in Kansas City with years of experience helping people like you.
Contact us today.  MIDWEST COMFORT HOMES • 1100 SW 24th Street Court • Blue Springs, MO 64015
(816) 988-8297 • service@mchrestore.com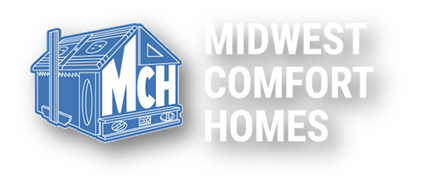 It's not business.
It's personal.Water Damage Restoration in Kansas City
The driving force behind Midwest Comfort Homes is to be among the most trusted and respected home restoration companies in Kansas City. We will communicate with you throughout the entire restoration process to make sure you're well informed each step of the way. Our Kansas City restoration contractors will make sure you know what comes next and give you a clear timeline for project completion. Home Restoration Companies Kansas City will also be in close contact with your insurance company to ensure each step of the restoration is handled properly.